Finnish Landlords' Association is an interest group of private landlords and housing investors. We are a close-knit community of 13 people, and we have people from a wide variety of backgrounds. Our organization includes lawyers as well as experts in member services, communications, advocacy and finance.
Rapid growth as the challenge
In recent years, we have been challenged by the growth in our membership: growth has been rapid and resources are easily dragging behind. In this situation, it is important to address issues related to coping at work and exhaustion, when there are a lot of ideas and enthusiasm. Another challenge has been how we get to know each other when new people come in and of course some also leave.
We ended up with SmothTeam because I was already familiar with it in another organization. Our key interest was to make people get to know each other better and get a team to work together even better than they do now. On the one hand, we have very extroverted people who are better known in the work community. On the other hand, there are also shy and quieter ones that others may not know so well. We set out to bring out everyone's strengths.
The simulation also encouraged those who are shy to talk
I'm really glad that the simulation got the different participants to speak openly and fairly. The simulation guided everyone to participate, in a good way it forces equal participation. In many other tools success depends a lot on what each highlights or whether they stay in the background. SmoothTeam encouraged everyone to share their own thoughts openly.
With the help of the simulation, we went through the participants 'preferences and strengths in a truly open way, as well as things that no one sees as their own. We found that we should not think of people in overly narrow roles such as lawyers or economists, but find individual roles. They are more inspiring and meaningful to people than ready-made boxes.
Concrete ideas for next year's activities
The simulation worked really well. The workshop was so intense that it forced everyone to be present and focus on the exercise. In addition to learning about each other, we also got quite a few practical things to support planning for next year's activities.
Teams need different personalities
I think teams need different personalities. Differences complement each other as long as those differences can be identified and exploited. Also, the fact that it is worth breaking traditional roles at times can also break the boundaries of teams related to work.
Transparency and an atmosphere of trust are the best outputs
I can recommend SmoothTeam especially for teams with new people. This works great for getting to know each other and, on the other hand, working even better together among those who already knew each other.
The best thing was the feeling of how openly and in an atmosphere of trust people shared their own thoughts. I was impressed that we were also able to say things that are not usually said out loud.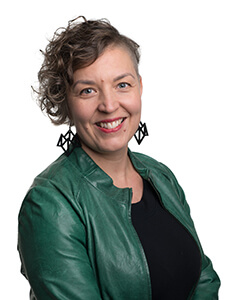 Sanna Hughes
Executive Directors
Finnish Landlords' Association