Iogen is the largest Finnish company importing ophthalmic surgical supplies. We work with a consultative approach, i.e. we understand the needs of our customers and help them in fulfilling them.
Because this is a small field of specialist medicine, we have a fairly small team. Working for a common goal is very important to us. The importance of good communication in our team is really large as we serve expert customers.
We are open – which is both our strength and our challenge
Our communication is open. We work in the field of surgery, so we always have to act based on facts. Sometimes, however, openness can mean actions that are too direct.
Challenges culminate in individuals' personal traits. There is no unified culture or rules of the game for communication, but we are individuals and we have strong personalities in the company. When there are strong personalities, sometimes it happens that only problems are brought up and seen. Finding solutions may be given less emphasis. Sometimes we are very happy to bring out the negative aspects.
SmoothTeam helped us to develop our cooperation
We hold World Domination Days twice a year to develop our cooperation and operations as well as to plan for the future. Someone could call them a joint retreat or strategy meeting. In this case, we spent three days together to develop Iogen. We used SmoothTeam to find new tools for discussing things.
How can I listen, how do we listen to each other in our team?
The discussion sparked by SmoothTeam was startling. We had gone through identical things before. When things were dealt with through the simulation, the same people provided completely different perspectives. The team members spoke much more openly.
I thought I had asked before, but I hadn't been able to. It was a place for myself to look in the mirror: facilitation, listening, and interaction aren't that strong for me after all. This brought up the matter and I decided that I really need to start working on listening.
This has a big cumulative impact on everything. If you don't get the real answers out with your own style of communication, it rots the whole community and makes action impossible later.
It is important to be able to discuss things honestly. What was terribly positive was that SmoothTeam highlighted how much we had to improve. At the same time, through the simulation, we received confirmation that the tools exist. So the disease is not only diagnosed, but we can find ways to communicate with each other better and understand each other.
To put it plainly: If one parent yells at their children and the other speaks gently and softly, then one can make guesses about how the children grow and develop. Which interactor do I want to be at work?
During the simulation, we found tools to work better together. We have already talked internally that we will continue to use SmoothTeam in the future, the outcome was so excellent.
SmoothTeam helped us in addressing our strategy
SmoothTeam helped us with our strategy. Our information is incomplete and choices have to be made as to where the company is heading for regarding certain products and where to invest. Here, too, we got a new way to talk.
In particular, we made visible hidden thoughts of people that had not been said before. Everyone had been asked for an honest opinion and given time and space to express their views on the subject – everyone had a chance to think individually and in a group and feedback was collected. However, during the SmoothTeam exercise, it turned out that people had a lot of ideas that they hadn't shared. The working management was not on top of things. With this tool you can truly see where you are going.
We found that we had just been playing with asking for feedback. Now people started telling, as we asked in a better way. It was just magical to watch what kind of mental locks this opened. The phenomenon may be related to psychological safety. SmoothTeam automatically comes with a humane grip.
I recommend SmoothTeam without reservation
I have unreservedly praised SmoothTeam for many people. There are easy things in life: if I'm wondering if I should shave, the answer is automatically yes. There are also those things where the answer is automatically no. Using SmoothTeam is one of those points in life where the answer should be automatically yeah, if you consider even for a second whether it might be needed.
SmoothTeam works especially for teams that are genuinely dependent on each other's work input. There are also teams that are in the same unit but work more at the individual level. When a mammoth is hunted, a team is needed, an individual is of no use. And this is for those teams that are interdependent and want to get that mammoth.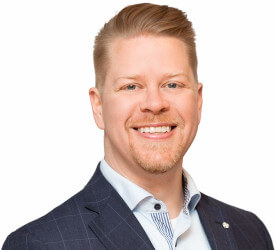 Tero Rinne Founder, Chairman of the Board Iogen Oy