At Vincit, we do software development work in project teams. We have a lot of different kinds of people at work. Some are more introverted, like to have headsets on all day, some are more extroverted, and then we have everything in between.
When a new project starts, there may be people in the team who do not yet know each other very well. It is important to get different people to work well together right from the start. This will give the project an efficient start and get it up and running quickly.
Trust as the foundation
The starting point is trust and everything is built on it. Trust is the ability to be vulnerable in front of another person. It takes courage from many, and it is important to lower the threshold to be vulnerable. It's often harder than you would guess.
With SmoothTeam, people open up their own thinking and sometimes their home workstation to others. So they are vulnerable and it builds trust effectively. Sessions also include laughter as an integral part, which frees the atmosphere and makes it easier to talk about things.
With a sales team, we played the "team strengths" simulation and got to know each other better. In the game, new aspects of co-workers emerged in a nice way. Although we had all been at Vincit for a long time, we didn't know each other well because we hadn't worked together before. Half a year after the simulation, as we were planning an event, I said to my teammate: "You probably won't come out for a beer in the evening as you're not interested in such activities." My team mate wondered how I knew what he was thinking. "You told us during SmoothTeam."
Remote work simulation helped us setting up the rules of the game
Due to the COVID-19 pandemic, the entire Vincit also moved to telecommuting, which has, of course, affected our work in many ways. We've organized virtual coffee breaks and other common remote activities, but of course many are longing for a return to normal everyday life.
At the beginning of a new project that has recently begun, I wondered how team building works when its members can't see each other. Building trust remotely seemed awkward, although all sorts of communication tools can be found.
In the early phase of the project, we played the remote work simulation. That, too, worked amazingly well. It was great that the teammates heard how others are working from home. How they take breaks, who has children, who prefers to work in the morning and who in the evening. The discussion greatly facilitated finding common ground rules in a changed situation.
People are in the lead role
The SmoothTeam tool perfectly supports the occasion, but does not take the lead. The main part is the discussion between people. Good insights emerge from the discussion and it cuts down prejudices.
Simulations lead us to pay more attention to the fact that we are all individuals. This really changes the way you work and provides support for the daily work.
I warmly recommend SmoothTeam to anyone who does teamwork.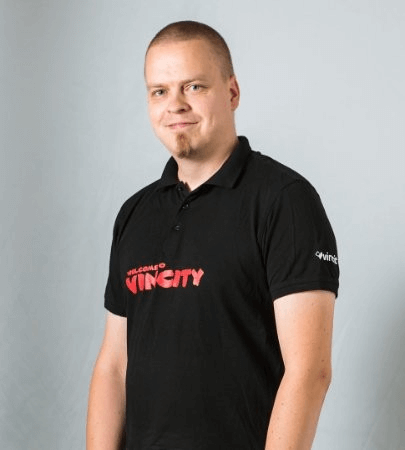 Veli-Pekka Eloranta
Agile coach
Vincit is a service design and software house with about 500 employees.